If you're seeking a top-tier safari experience in Masai Mara, it's not just about luxurious accommodations; it's also about the quality and breadth of your experiences. Having had the privilege of enjoying a few luxury packages in Mara, I've gathered some valuable tips for you to consider. In this post, I'll provide you with details about Kambu Campers' luxury package, even though our expertise lies in affordable offerings. Our specialization in budget-friendly packages has given us a unique advantage in recognizing and appreciating a truly exceptional luxury experience that will leave you pampered and enriched during your safari adventure.
About our Luxury Safari Package – why it stands out;
While we hand-pick the most luxurious and expensive accommodations for our guests, we also focus on getting you the most options of things to do and experience in order to guarantee you an unforgettable safari experience. Our team of exceptional experts will guarantee you the exclusive opportunity to witness the magnificent wildlife and birdlife of the Mara up close. This may entail embarking on specially curated game-viewing excursions to specific locations renowned for their unique animals, such as the remarkable Marsh Lions located in Mara North Conservancy – just outside the Masai Mara National Reserve. Prepare to be captivated by the unparalleled beauty and biodiversity that awaits you.
Additionally, we offer personalized tours tailored to your specific interests so you can make the best use of your time. Whether you're a nature lover, an adrenaline junkie, or just looking for some rest and relaxation in the midst of beautiful surroundings, we have something to suit your needs. There is a host of activities such as hot air balloon rides, bush dinners with Maasai culture, guided nature walks and even night game drives.
In addition to the activities, our luxury package offers an array of services that will ensure your stay is nothing but perfect. Our commitment to comfort includes full-board meals and snacks served at the camp, attentive staff that ensures all your needs are met, and a wide range of drinks including a selection of fine wines.
Not to mention. We go out of our way to get you comfortable during our game drives with packed drinks and snacks. Our aim is for you not to lack anything during your trip.
We take great pride in ensuring that your luxury safari experience with Kambu Campers will be like no other – a unique and irreplaceable adventure. From the very moment you arrive, our team of experienced guides and staff will make sure that your every need is taken care of and that you're well-fed and comfortable throughout your stay with us. We understand that the luxury safari experience is all about creating lasting memories, and so we strive to make sure you'll never forget your time in the Masai Mara.
Some Luxury Camps you can Choose From;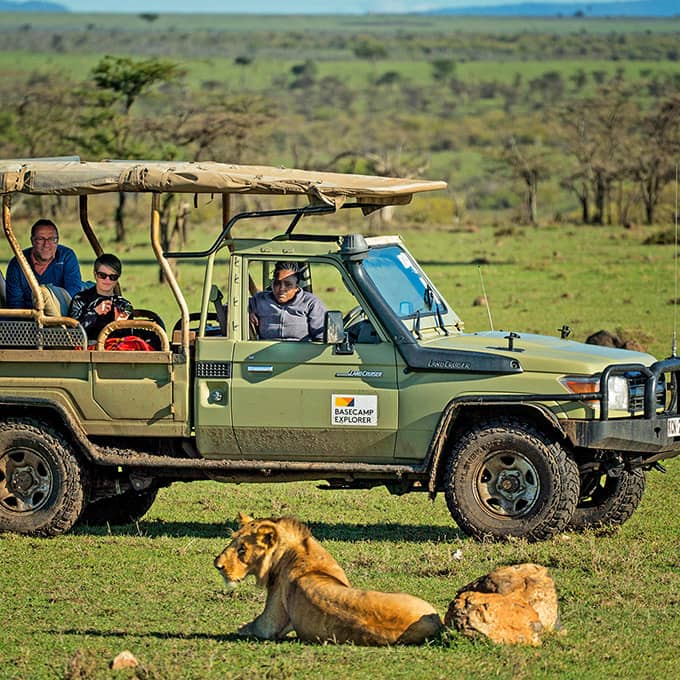 Basecamp Masai Mara;
Indulge in a luxurious safari experience while staying at a camp dedicated to promoting positive tourism. Situated on the outskirts of the Masai Mara National Reserve, this riverside camp stands as a shining example of sustainable eco-tourism. With a range of mid-sized tents, it caters to both families and couples, guaranteeing an unforgettable adventure for all. And let's not forget to mention that the Obamas themselves graced this camp with their presence back in 2006, adding to its allure.
Governors Camp;
It isn't for nothing that Governors Camp is considered one of the oldest and most luxurious safari destinations in Kenya. This plush camp stands out for its unparalleled accommodation options, ranging from lavish tents to suites with private pools – all designed to provide you with an absolutely unforgettable stay. Enjoy admiring wildlife from your own personal seating area by the Mara River, or venture into the surrounding areas to explore and take in your surroundings.
Below are other luxury camps;
Eagle View Camp;
Richard's River Camp
Mara Expedition Camp
LIttle Governors Camp
Ol Seki Hemingways Mara Camp
Kichwa Tembo Camp
Elephant Pepper Camp
Mahali Mzuri Camp
Sala's Camp
Saruni Camp
How to pick a luxury accommodation in Masai Mara – 5 tips;
Choose a camp with an excellent reputation for service and hospitality – You want to make sure your luxury experience is backed up by the best in terms of customer service and friendliness. Do some research online about different camps, read reviews, ask family and friends who may have visited the area before.
Check if they offer unique experiences & activities- Good luxury camps should offer a variety of activities to make your time unique, such as game drives, bush dinners and traditional Maasai dances.
Consider the location – When it comes to luxury safaris, it's all about getting away from the hustle and bustle of everyday life. Make sure you pick a camp that is situated in a quiet, secluded area so you can fully appreciate the beauty of nature.
Check for high-end amenities and services – Luxury camps should offer amenities like private pools, Jacuzzis, spa treatments, gourmet meals and more. Make sure to check what kind of comforts are on offer before booking your stay.
Consider price & value – Luxury accommodation can be quite expensive, but it should still provide great value for money. Make sure to compare different camps and their packages before making a decision.
How many days to go on a luxury safari in the Mara?
In my opinion, the ideal length of stay would be 4-5 days. With this amount of time, you can truly explore the area and appreciate its natural beauty while also enjoying all the luxuries provided by your camp. A longer stay may bring greater rewards but there is also something to be said for making sure that your safari experience does not become too monotonous and exhausting. The perfect length of stay would depend on your budget and preferences, so make sure to weigh up all the options before booking.
How to get the most out of your high-end safari in Masai Mara; 8 tips;
Be specific about what you want to see. Remember that your safari experience is all about you. Make sure to be specific with your guide about what kind of animals or sights you want to see so they can tailor the game drives to your needs and desires. If you want a better chance of spotting lions, you are better off staying at accommodations located in Mara North regions such as Governors Camp or Angama Camp. The area is known to be rich in wildlife.
Go for a hot-air balloon ride: Take advantage of the unique opportunity to enjoy an aerial view of the Masai Mara while gently floating in a hot-air balloon. It is definitely one of the most luxurious ways to experience the untouched beauty of this region, and it's not something you'll find at other safari destinations.
Be specific about your hotel ask – If you want to swim or need water in certain temperature, let your tour provider know. You can also ask for special treatments such as massages, a private pool or other services that make your stay more luxurious and comfortable.
Take advantage of activities offered – Some luxury safari camps offer additional activities such as horse riding, walking safaris, bush dinners and cultural visits to nearby Masai villages. Make sure to take advantage of these unique experiences in order to get the most out of your stay.
Try a luxury bush dinner: A unique way to experience the magic of the African night sky is by having a private bush dinner at your camp's designated area in the wilderness. It will provide you with an unforgettable experience as you get to savor delicious dishes while surrounded by nature and the sounds of nocturnal animals.
Take time to relax – A luxury safari experience is all about getting away from the hustle and bustle of everyday life, so make sure to take some time to relax and truly appreciate the beauty of nature. Listen to the sounds of wildlife, gaze up at the stars in a perfectly clear night sky or simply take a moment to reflect and enjoy the serenity of your surroundings.
Take plenty of photos! – A safari is all about capturing beautiful memories that will last for years to come. Make sure to bring a good camera or even better, a drone, so you can take incredible aerial shots and videos from above – You'll definitely want to remember this experience forever!
Choose a fly-in Mara safari over driving: Fly-in safaris are the most luxurious way to explore the Masai Mara and its lush savannas. Take advantage of this unique opportunity to view breathtaking views from above, while also avoiding the long drives associated with a ground-based safari tour. It's truly an unforgettable experience!
How much are luxury safari packages in the Mara?
The price of a luxury safari package in the Masai Mara depends on several factors, such as the duration and type of accommodation you choose. A 3 night stay at a high-end camp can cost upwards of $2,000 per person, while a 5-night stay could be up to double that. Other costs may include activities and game drives which can add up quickly, so make sure to do your research and compare different packages before booking. Ultimately, when it comes to luxury safaris, you get what you pay for!
How to pick the best times of year for a Masai Mara Safari?
The best time to visit the Masai Mara for a luxury safari experience is between June and October. During these months, the great wildebeest migration is at its peak, meaning you can witness this amazing natural phenomenon in action. This is also when predators are most active in the area, so if you're looking to spot big game animals like lions, leopards and cheetahs then this is the best time for you! If your budget allows, aim for a stay during the dry season (July-October) as this is when the game viewing is at its best.
If you want to take a luxury safari in the Mara without breaking the bank, consider going during low season from March to May when the rates are up to 40% lower. Although you won't be able to witness the wildebeest migration, you can still enjoy excellent game viewing and have an amazing experience in the wild.
What our luxury safari package includes;
Our luxury safari package includes everything you need for an unforgettable experience in the wild! It includes accommodation at one of our high-end camps, game drives and activities to ensure that you get up close and personal with the wildlife, and a private guide who will be your companion throughout the duration of your stay. Depending on availability, we can also arrange hot air balloon rides and bush dinners for an extra fee. All of our packages are customizable so you can tailor-make it to suit your needs and budget.
How to book a luxury Mara Safari:
If you plan to book your safari with Kambu Campers, the process is simple and straightforward. All you need to do is fill out our online inquiry form with your desired dates, budget, and number of people traveling. We will then get in touch with you within 24 hours to discuss available packages and put together a tailor-made safari experience that suits your needs. We may get back with you with 2 or 3 accommodation options with key highlights of each for you to pick one. This gives you the freedom to choose based on your preferences.